Tags
Almelo, Amsterdam, danger of nuclear, environment, Netherlands, nuclear energy, Nuclear Proliferation, Nuclear Security Summit, nuclear security summit protests, nuclear weapons, protest, Stop NIS, Stop NSS, stop nuclear, stop nuclear protest, The Hague, Urenco
Protests at The Hague (23-24 March) and picket line in Amsterdam (24 March) and Almelo (25 March). This is against the 2014 Nuclear "Security" Summit at the Hague and its evil twin the Nuclear Industry Summit in Amsterdam. The Real Nuclear Security Threat is the Nuclear Industry and the many govs which now allow dizzyingly high amounts of radiation in food and dumping rad waste in public landfills. The Hague Info is in the English original. From the Dutch: Agenda Amsterdam (NIS): 24 March 2014: Picket-line by the International Nuclear Industry Summit, Time: 07.15 to 10.00. Location: Beursplein, Amsterdam More info: https://stopdenss.nl/agenda-amsterdam-nis/ More protests are on Tuesday, as well. Wednesday, March 25, 2014: Protest action at the main gate of Urenco The CEOs of the companies that come to the Nuclear Industry Summit in Amsterdam on March 25, are going to visit Urenco. Enschede for Peace is organizing a counter-action. Urenco is located in the town of Almelo in the Netherlands. Time: 9:30 to 11, Protest-Picketline, Location: Urenco, Almelo, 1 Drienemansweg, More information: Enschede voor Vrede (Enschede for Peace) http://enschedevoorvrede.nl Also: March 25, 2014: Decentralized day of action against NSS and NIS all over the Netherlands, except The Hague, called by Auto Nomen den Hague. Due to high military and police presence within The Hague they have called for protests elsewhere. More info here: http://autonomendenhaag.wordpress.com/2014/03/21/dinsdag-25-maart-decentrale-actiedag-tegen-nss-top/ (in Dutch).
flying cuttlefish picayune
The

dregs of humanity

will converge on Amsterdam for the Earth-ending festival of evil. Protests are banned (which should double their size).
See all the news here –
English LINK:   http://stopdenss.nl/english/
It looks like they are going to try the Miami Model used at the FTAA.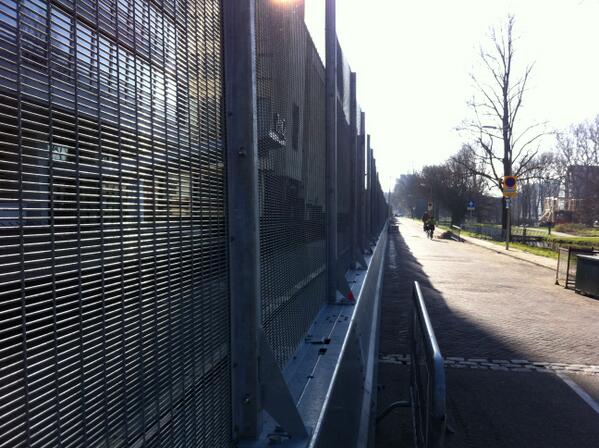 Once they supply all of this anti-gathering hardware and weaponry they warehouse it regionally for quick access for future use.  We all know that. And it doesn't work.
The nuke industry summit official tweet page has lots of picture…. mostly of security arrangements.